Hoy queremos centrarnos en un color intenso con historia: el azul klein. Un favorecedor color que hemos utilizado en algunos de nuestros diseños de la colección Donna.
Today we want to center on an intense color in history: blue klein. A flattering color we have used in some of our designs from the Donna collection.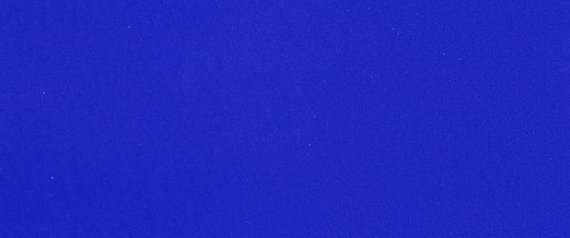 El azul Klein, creado por el artista francés Yves Klein, es un azul intenso brillante que fue patentado en 1960 como International Klein Blue (IKB). Este artista francés perteneció al neo-dadaísmo y utilizó este tono para hacer cuadros monocromáticos. Posteriormente, los diseñadores vieron un potencial en este color y se inspiraron para incluirlo en sus colecciones y hacer los vestidos más glamourosos de la red carpet.
 Blue klein, created by the French artist Yves Klein, is an intense and bright blue that was patented in 1960 as International Klein Blue (IKB). This French artist belonged to the Neo-dada era and utilized this tone to make monochrome pictures. Following Klein, designers saw potential in this color and were inspired to include it in their collections for the most glamorous dresses on the red carpet.  
This intense color will be one of our allies this season. It is an elegant color that enhances and perfectly complements all type of skin, light or dark, and all shades of hair, as we have seen in the celebrities that dared to wear this original color on the catwalks. Este color intenso será uno de nuestros aliados esta temporada. Es un color que realza, es elegante y combina perfectamente con todo tipo de pieles, claras u oscuras, y en todo tipo de tonos de pelo, como hemos podido ver en las pasarelas y las celebrities que se han atrevido con este color tan original y elegante.
Os proponemos algunos diseños Cabotine Donna en este color:
We propose to you some of Cabotine´s Donna designs in this color: 
Nuestro diseño DONNA 7805 es una excelente opción. Se trata de un conjunto que se compone de un vestido corto sin mangas en triacetato con escote ilusión de tul con encaje bordado, y un bolero liso en triacetato a juego.
Our DONNA 7805 design is a wonderful choice. It's a mother of the bride outfit in triacetate. Bolero and knee length sleeveless dress with overlaid sweetheart neckline. Bodice with lace and guipure details.
Si prefieres optar por un look con pantalones, te sugerimos nuestro diseño DONNA 7792. Un conjunto de fiesta realizado en chiffón compuesto por pantalón y blusón de doble capa con manga francesa y detalle de encaje en el hombro.
If you prefer to wear a look with troursers, we sugest you our DONNA 7792 design. A set made in chiffon with trousers and double layer blouse with three quaeter sleeves and lace detail on the shoulder.

Si prefieres romper el total look azul klein con algún estampado, te proponemos nuestro diseño DONNA 7736. Un conjunto de fiesta compuesto por pantalón liso y blusón estampado en chiffón. Escote capa y manga ancha de longitud asimétrica.
If you prefer a option with some print and not only blue klein, we propose you our DONNA 7736 design. A chiffon outfit with plain trousers and floral printed top with cowl neck and asymmetric sleeves length.